CANADIAN HONEY COUNCIL
The Canadian Honey Council (CHC) is the national organization of the beekeeping industry.  It is a not for profit organization, established in 1940 and incorporated in 1950.
The Canadian Honey Council is the national association of beekeepers representing apiculturists across Canada. The CHC provides a forum where producers, packers, professionals, provincial associations and officials from different levels of government can talk and recommend action in the best interests of the Canadian honey bee industry.  Currently, the CHC membership consists of representatives of provincial associations with the total number of beekeepers at approximately 10,000 managing over 750,000 colonies.
_____________________________________________________________________________________________________________________________________
HiveLights is the national magazine of the Canadian Honey Council. It is published four times a year and is mailed to all the members of our provincial associations. The magazine features articles by honey bee specialists and beekeepers and provides current information on the Canadian honey bee industry.
View HIVELIGHTS Newsletter Archive
---
Information sharing for agriculture and agri-food sector representatives – December 16, 2022 / Partage d'informations pour les représentants du secteur agricole et agroalimentaire – le 16 décembre 2022
December 2022
---
CAHRC/CCRHA – Special Partner Briefing
December 2022
---
Latest Headlines for CAHRC Partners – AgriWorkforce Newsfeed/Dernières nouvelles à l'intention des partenaires du CCRHA – Fil d'actualité sur la main-d'œuvre agricole
December 2022
---
Japan: Notification of new proposed MRLs / Japon: Notification de nouvelles propositions de LMRs [MAS-SAM #7638]
December 2022
---
Bee Maid Honey Limited 2023 Call for Research Proposals
December 2022
Call for Research Proposals 2023
---
CAHRC/CCRHA – Interim Report Signatory Request – National Workforce Strategic Plan for Agriculture and Food and Beverage Manufacturing
November 2022
---
Honey Bee Health Coalition Releases 2nd Edition of Foulbrood Identification and Mitigation Guide
November 2022
---
Honey Council Classified Ads
Looking for a job?
Trying to find some supplies of equipment?
Browse our classifieds.
---
Canadian Bee Research Fund
AS Atwal Graduate Scholarship in Bee Research ($5000)
The Canadian Bee Research Fund (CBRF) was established to counteract the problems caused by severe reductions in federal and provincial funding for honey bee research. It is a joint project of the Canadian Association of Professional Apiculturists and the Canadian Honey Council. The Board of Directors is comprised of four members, two from CAPA and two from CHC. The Canadian Honey Council takes direction from the CBRF board of directors and administers the fund as required.
The CBRF has been set up as a long-term endowment fund. Interest generated by the CBRF is made available for annual grants. Beekeepers direct the type of research that they want to support. The CBRF is entirely supported by donations from the apiculture industry and is a unique partnership between CAPA researchers and CHC members.
Save Our Bees 
Bee health is an growing public concern and more and more attention is being put on finding solutions to mitigate losses.
The honeybee is the cornerstone of the environment and is critical to our food supply around the world. Scientists from the U.S.A. to France and Spain and all the way to U.K. and China are trying to solve the mystery of what's causing the disappearance of the honey bee. Your help is needed to help our pollinators. Corporate and individual donations are very much appreciated … and we need you to help Save Our Bees. All funds (100%) donated to Save our Bees are deposited into the Canadian Bee Research Fund, a registered charity that distributes funds for bee health research.
https://honeycouncil.ca/industry-overview/canadian-bee-research-fund/
---
Abstract Book of the 47th Apimondia Congress is published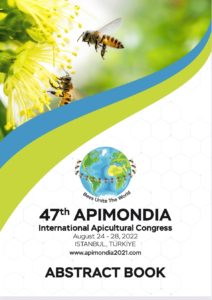 ---
---