Industry trends and statistics
Product Launch Analysis – Honey as an ingredient in Canada/Analyse des lancements de nouveaux produits – Le miel utilisé comme ingrédient au Canada (April 2021)
https://www.agr.gc.ca/eng/canadas-agriculture-sectors/horticulture/horticulture-sector-reports/product-launch-analysis-honey-as-an-ingredient-in-canada/?id=1616606900797
https://www.agr.gc.ca/fra/secteurs-agricoles-du-canada/horticulture/rapports-sur-l-industrie-horticole/analyse-des-lancements-de-nouveaux-produits-le-miel-utilise-comme-ingredient-au-canada/?id=1616606900797
2019 Honey Product Trends in Canada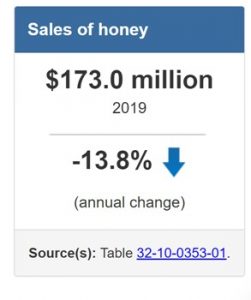 Honey production in Canada fell 15.4% from a year earlier to 80.4 million pounds in 2019 in the wake of a cold, wet spring and summer on the Prairies. This was its lowest level in seven years.
In Alberta, the largest honey-producing province, production fell 35.0% to 25.1 million pounds, the lowest level in the province since 2000. Production was also down in Manitoba (-1.9%) and Saskatchewan (-1.4%). Since 2000, about four-fifths of the annual honey production in Canada has come from these three Prairie provinces.
Nationally, the total value of honey sold was down 13.8% year over year to $173.0 million in 2019, its lowest level in three years due to lower yields.
The number of beekeepers in Canada fell by 317 from a year earlier to 10,344 in 2019. Over half of the beekeepers in Canada were located in British Columbia (2,763) and Ontario (2,506).
Bees in British Columbia and Ontario are valued more for their pollination of fruits and vegetables than for their honey production. In fact, the 5,269 beekeepers in these two provinces combined produced less than half the amount of honey produced by the 1,474 beekeepers in Alberta in 2019.
The number of bee colonies in Canada was down 2.1% from a year earlier to 773,182 in 2019."
Stats Canada honey production numbers – 2019
Archives:
---
Statistical Overview of the Canadian
Honey and Bee Industry (AAFC)
Statistical Overview of the Canadian Honey and Bee Industry (AAFC – 2019)
https://www.agr.gc.ca/eng/horticulture/horticulture-sector-reports/statistical-overview-of-the-canadian-honey-and-bee-industry-2019/?id=1594646761058
---
Canadian Association of Professional Apiculturists
Statement on Honey Bee Wintering Losses in Canada (2020)/Association canadienne des professionnels de l'apiculture
Enquête sur la mortalité hivernale des colonies d'abeilles au Canada (2020)
Canadian Association of Professional Apiculturists
Statement on Honey Bee Wintering Losses in Canada (2020)
Association canadienne des professionnels de l'apiculture
Enquête sur la mortalité hivernale des colonies d'abeilles au Canada (2020)
Archives:  https://capabees.com/category/extension/overwintering-losses/